People say Adelaide is weird like Brisbane used to be but isn't anymore. I say no one here was ever that weird, just like, hot and cranky. But maybe that's why I have really strong good feelings about nearly every Adelaide band – seems like they've got the same kind of 'maybe we hate each other but this town's too small not to try and get along' *community* thing as Brisbane. Idk I've never been.
Men With Chips are an Adelaide band that I have strong good feelings about, and they've made a ridiculous, but genuinely kind of unnerving video for their latest single 'Ardrossan' that oughta strike fear into a lot of hearts. Two words: jazz cult. Esteemed members of the Adelaide music community are hunted down on an overcast day at the innocuous SA seaside by overall-wearing horn players and killed(?) by bursts of loud random FREE JAZZ.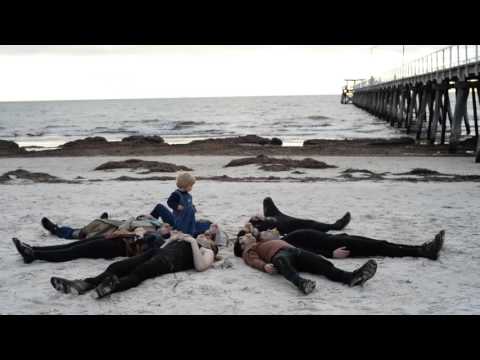 The video was directed by Pat Telfer from Old Mate and Bitch Prefect, who really knows what he's doing behind the camera; his clips always look great. It's obviously a funny idea, and they pull it off with a commitment that, coupled with the jittery drumming and low bending bass of the verses, make it also pretty creepy.
The record, called Attention Spent, will be out on November the 4th, (preorder through Homeless here) though we've been previously given another taste with longer cut 'And Counting'. This dankly terrific track coughs up gear grinding guitar and the same commanding vocals that only demand more attention as they get increasingly slurred and nonsensical. Everything Joel Robertson sings sounds simultaneously like a manifesto and a cry for help.
Ignore anywhere that says the record was out October 28th. Homeless Records, never change.
Men With Chips are playing the following dates in support of Attention Spent:
Friday November 11 – The Gunners Arms Tavern, Launceston
Wednesday November 16 – The Old Bar, Melbourne
Thursday November 17 – Dane Certificate's Magic Tricks, Gags and Theatre, Melbourne
Friday November 18 – Lacklustre Records, Canberra
Saturday November 19 – Black Wire Records, Sydney
Thursday November 24 – The Wooly Mammoth, Brisbane
Saturday November 26 – 4ZZZ Carpark Show, Brisbane
Saturday December 3 – The Exter Hotel, Adelaide
Friday December 9 – The Bird, Perth
Sunday December 11 – Mojo, Fremantle
P.S I heard that Dave Blumbergs, the bass player in this band, is working on some kind of Adelaide Underground Rock Opera. If anyone has more information please get in touch. Need this scoop.