*Advertisement from Logitech*
I bought a set of Logitech computer speakers about 8 years ago. Various desktop systems, house migrations and house parties all soundtracked through a trusty 2 speaker/bass box setup. Worked for me.
Speaker days are gone though. We're 'mobile', whatever that means. The obvious problem is staying portable – without sound quality the equivalent of having your head jammed in a tin can.
Enter the UE BOOM Tall Boy. I'm calling it a Tall Boy cause it looks like a large German beer can. Except fluorescent.
If you don't believe me, here's thirty seconds of hot people roadtesting the damn thing.
The sound is sprayed in 360-degrees via. a tube shape and it's surprisingly even in every direction. Perfect for 'spin the bottle' right? You can lose the ear buds, which we all know are just for blocking out the crazy people on the train. This one is perfect for festival season. The UE BOOM is made for hanging up in your tent (tuff-as-nuts design), getting sloshed with 360°degree Flume pumping into the night (15 hr battery life) or wearing it around your neck (lanyard hook included) – if you're that type of guy.
And yes, you can hold your speaker and your beer in the same hand – it's water and dirt resistant too. But if you can't be bothered holding it, you could grab two of them and pair them together via the UE BOOM App. Why would you bother I hear you thinking, well either double the sound or left & right stereo separation… BOOM!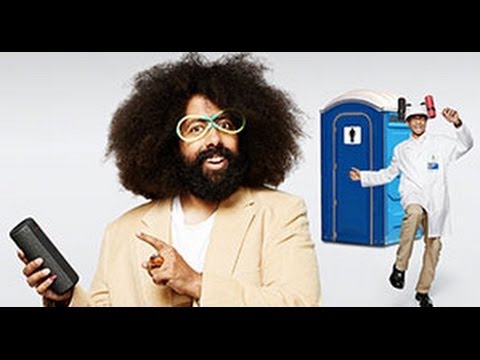 These babies retail for $199.95 here, which is like half the price of a Splendour ticket! So check em out and you could nab one for the summer festival season – so you can wake up alone, plastered in a paddock at Meredith 2013, booming Nile Rodgers from an ergonomic speaker around your neck.
Check out more reviews here and GET TO IT.