New video from Lime Cordial for the single 'Sleeping At Your Door' lifted from their sweet EP Falling Up The Stairs released last week. Lime Cordial are spunky brothers Oli and Louis Leimback with help from James Jennings on awesome drums, Brendan Champion play'n Bone and Tim Fitz on Keys/Guitar. Their brand new EP Falling Up The Stairs is a real catchy, melodic, tingly, and cheeky collection of tracks. We could lob them into a North Sydney tropical sound (Holiday's) or more rhythmic hippiness (Jinja Safari) but I reckon they've got a slicker, surfier vibe. It's sunny pop with good vocals and neat song-writing. The EP has a lot going on and the production is impressive. The boys are on tour with UK friends Cosmo Jarvis, following a few local shows.
The video kinda does have a Wes Anderson feel (thanks youtube commentator) in the zooms and saturated colour but really it's just a band playing on a barge. But it should get the girls/boys going and it's a good track. Oh and I like the tinny cruising past.
Director & Editor: Oliver Leimbach
Director of Photography: Max Seager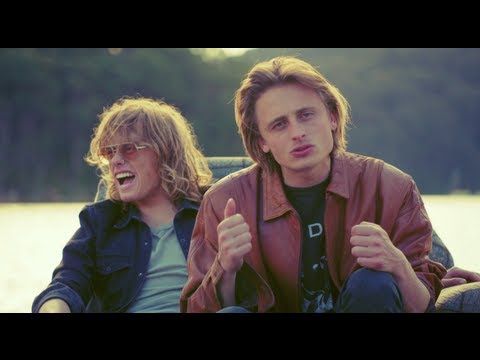 Sep 19 – Northcote Social Club, Melbourne.
Sep 27 – Oxford Art Factory, Sydney.
Sep 28 – North Manly Bowling Club, Manly
with Cosmo Jarvis:
Sunday 13 October – BEETLE BAR, BRISBANE
Tuesday 15 October – NORTHCOTE SOCIAL CLUB, MELBOURNE
Wednesday 16 October – WORKERS CLUB, MELBOURNE
Friday 18 October – KAROVA LOUNGE, BALLARAT
Saturday 19 October – BRIDGE HOTEL, CASTLEMAINE
Sunday 20 October – BARWON CLUB, GEELONG (MATINEE)
Thursday 24 October – ANNANDALE HOTEL, SYDNEY
Friday 25 October – MONAVALE HOTEL, THE ATTIC, MONAVALE
Sunday 27 October – YOURS AND OWLS, WOLLONGONG