The last time I wrote something nice about Epithets, lead singer/guitarist Nick Smethurst was so stoked that he invited me to move in to his house.
I'd just come out of hospital to find myself homeless, with all my things packed into a storage unit in Milton. We met for coffee, talked music, and I mentioned I was couch surfing. Before I knew it I had a key and a shelf in the pantry.
It was a ramshackle Queenslander in the inner northern suburbs of Brisbane, walking distance to public transport and parks.
There were five people paying rent when I moved in, but often up to ten people living there. We had a lounge room and a band room and  it was awesome.
The thing I loved best about the house (other than the sweet-natured cattle dog who lived there) was the sheer amount of music going on. The paying residents of the house have changed a few times since I moved out 12 months ago, but they're all still playing music in some form.
Epithets – 'Blacklisted' (mp3)
To The North – 'No Alibi' (mp3)
Virginia Sook – 'The Hours'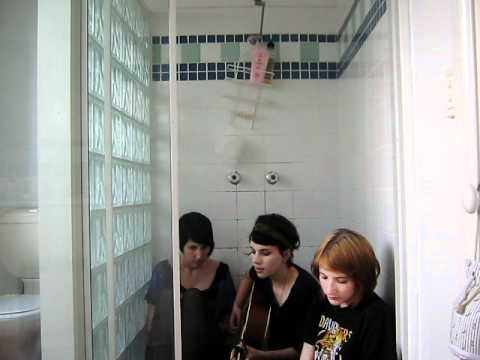 Note: That is not the bathroom at the house I used to live in. This bathroom is way nicer.