The first single from Dag's debut LP The Benefits of Solitude, 'Staying up at Night' came out last month. I wanted to write it up then but, honestly, I liked it too much. It's too breezy and, despite the uneasy melancholy of the lyrics and Dusty Anastassiou's naturally doleful voice, rolls by so easily. It's is a pop song from the jaunty acoustic guitar to the warmth and fullness of the chorus to the bow ba-bow bow bow bass line. To try and stop and think about like, 'why do I like this so much? How can I explain what's good about it?' felt like it would ruin something, so I let it pass by.
But here's a second chance, cause we got the very lucky scoop of premiering the video. It's the work of Brisbane director and musician Helena Papageorgiou, who's been responsible for many of the best clips you've been seeing coming out of Bris lately. This is a (deceptively) simple but imaginative and lovable version of the 'we'll have the band play their song, with green screen stuff also happening' kind of video.
In it Anastassiou, Sky McNichol (Bent), Josh Watson (Sewers; also mixed and co-produced the record) and Matthew Ford (Thigh Master), who make up the Brisbane contingent of the band (Anastassiou now lives in Melbourne and plays with different members there), play their instruments in a dingy share house-looking room, while out the windows animated illustrations spin and swirl.
The drawings are by Anastassiou himself: colourful fun and freaky pictures of UFOs and weird misshapen people and anthropomorphic houses. There's a wild world going on outside the concrete walls the band are contained by – though they break out at the end, with some cool shots of those walking down some animated streets and losing their heads in the big city.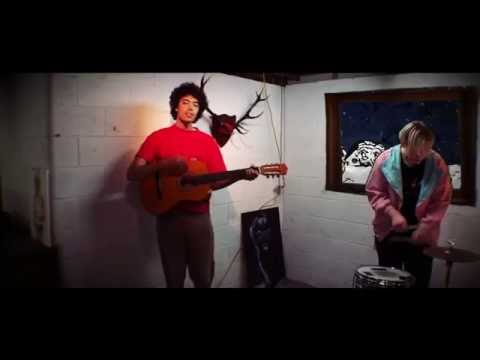 This clip doesn't rest on a cute idea or one-watch novelty – you see something new and interesting in Anastassiou's drawings and Papageorgiou's animation with every repeat watch.
Benefits of Solitude will be out in February on Bedroom Suck