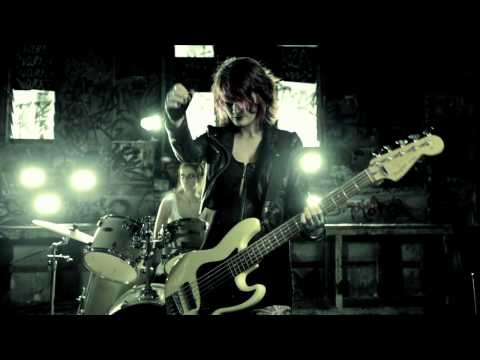 I have mixed feelings about this band.
On one hand, I really like this video. On the other hand, their Q & As with their fan base (who are either young goth dudes who want to bang them, young goth queer girls who want to bang them, old dudes who want to bang them and a smattering of idiots just to make things interesting) are fucking cringe-worthy. They actually used to have a lot more Q & As on their Youtube, but they've disappeared, thank God.
I suppose they're basically Short Stack, but with real vaginas instead of the implied ones that Shaun, Andy & Brady have.
And that's the thing  that gets me, I guess. Part me thinks  that they're reasonably proficient on their instruments and they can write a song, so why bother comparing them with men, or women?
But I can't stop myself from doing that and it's  because they use their gender as a gimmick, as a vehicle for their music, and that shits me off.
In an older video, they explained this in detail, if somewhat naively.
They tried to use the drummer's sexuality as a gimmick too, but they've since deleted the Youtube video where they taunt her with chants of "we like penis, you like vagina…" and hopefully realised that's a shitty thing to do to someone, even in jest.
In conclusion, they have more than a thousand fans on Facebook – some who've got Ovaries tattoos – and I'm just a sad old hater, I guess.