Illustrations by Lucy Roleff
Eugene Ward has been carving a path on the electronic music scene for a number of years now. Best known under his Dro Carey alias, Ward's music has seen him explore grime, UK garage and other forms of bass music, clocking up releases on a slew of international labels including Trilogy Tapes, RAMP Recordings and Greco-Roman.
A restlessly prolific producer, Ward also releases music under a number of other guises: the rugged techno/house-leaning Tuff Sherm, the avant-club experiments of PMM and more recently, under his given name, the Paint En Pointe album, a selection of compositions written in collaboration with choreographer Patric Kuo for a series of performances in late 2014.
On his latest single, 'Grow Lithe', Ward melds bubbling acid-synth and rolling garage rhythms with his typically crisp production style. The single is taken from a forthcoming EP for Australian imprint Soothsayer, expected later this year.
For the sixth instalment in our Virtual Mixtape series, Eugene has chosen a selection of his favourite German experimental, Neue Deutsche Welle & synth-pop 7"s.
Eugene Ward:
"For my virtual mixtape I knew that I wanted to delve into something forged in those dark and wide-reaching years of teenage taste. I got into dance music somewhat late in the scheme of things, probably only when I was 16. Before that, coming out of a jazz piano background I was generally drawn to improvised, avant-garde and heavy music. Really whatever could shock me – the kind of Internet-aided audio thrill-seeking that is endemic to reclusive or introverted teenagers. So there were a lot of options as far as the areas spanning 'pre-Dro' music taste. The reason I chose this somewhat loose category of Neue Deutsche Welle, synth-pop and German experimental seven inches is that it remains particularly relevant and inspiring to what I do now. Hopefully as we go through the tracks you will see that this was a legendary and fertile era for sound design and electronic music arrangement, one that goes far beyond the obvious linear relationship with European techno."
Endphase – 'Reise In Den Tod' from 2 Hemden & 2 Hosen Vol. 1 (2003)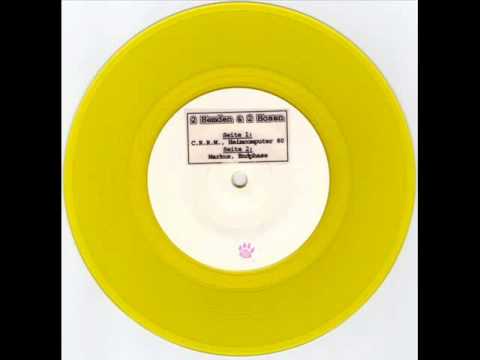 The interesting thing about this loose classification of seven-inch 'synth-pop' music is that since its inception in the late 70s/early 80s it has never really gone away. As such this track is taken from an earnest, dedicated early 2000s pastiche of the form. 2 Hemden & 2 Hosen was a long-running series of compilation seven-inch releases put out by the Kernkrach label, including some tracks that are so stylistically on point that you wonder if they're actually archival rather than contemporary takes. Not the case here, however, where 'Reise In Den Tod' features some decidedly modern and sophisticated oscillations and filters. Yet these synth lines are backed with a genuine motorik chug and ultimately it hits the mark as far as the emotional vibe of this music – part saccharine, part gothic.
Im Namen Des Volkes – 'Reaktorkern' from Weisses Rauschen EP (2006)
Im Namen Des Volkes was an alias for Matthias Schuster, whose work typically resides at the more industrial end of this music. Veteran engineer Christa Brüggemann remastered this EP, drawing on unreleased material that was originally recorded 1979-1981. Brüggemann lends this archival release some amazing heft and crispness, which allows us to appreciate the arrangements and sound design. This release brings me to one of the core reasons for my love of this music: were these not the best snare sounds going in the 1980s?  Substitute them into Yeezus or a TM88 production today and I wouldn't blink. Drums miles ahead of their time.